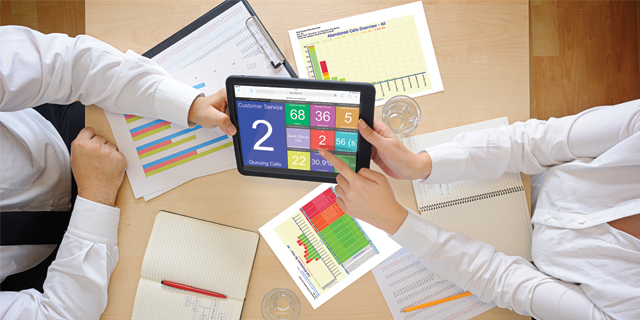 In order to survive and prosper in today's ultra competitive marketplace successful businesses learn from the past, focus on the present and plan for the future. In order to do so Directors, Managers and Key Employees need easy access to the historical and current information that enables them to make truly informed decisions some of which are instant e.g. returning Abandoned Calls that day or how best to take their company forward; improving the way they operate and the manner in which they deal with their existing and prospective customers, partners and suppliers. A clear company-wide view of business that allows levels of responsiveness to be ramped-up and competitive advantage gained.
By taking three separate elements of Business Telephony, Call Management, Call Recording and Real-Time Wallboards/Dashboards and melding them into a one seamless system, Splicecom are able to deliver a unique solution that addresses a myriad of real business problems – one where the whole is far greater than the sum of the individual parts.
Where as Call Management has traditionally focused on out-bound calls and billing, real-time wallboards tend to be used to highlight in-bound performance. Combining these two with Call Recording allows a company-wide view of business performance to be delivered – historical yet at the same time up-to-the-minute in real-time. And by making everything web based, this business-critical information can be delivered to those that need it, wherever they might be; via their PC or Laptop at their desk, their SmartPhone whilst they're away from the office, their iPad or tablet in the boardroom, or shared with the team on a big screen or monitor. Delivering this key information, independent of time, location and device, allows organisations to identify issues and rectify them before they become business-impacting problems.