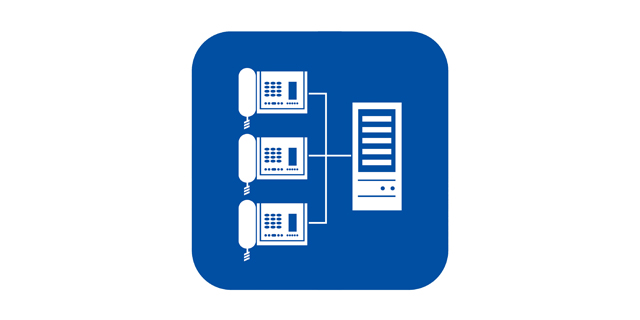 The same underlying operating system – Maximiser OS – runs across all Splicecom's voice platforms, be they soft, hard or virtual. This leads to un-paralleled interoperability across Splicecom's entire product range, allowing soft/virtual IP PBXs, hardware based call servers and network service gateways to be linked across wide area networks and multiple sites to form a single, truly unified system.
This widening of customer choice also extends to the deployment of your business communications system. There are three typical Splicecom scenarios;
For on-premise deployment, Splicecom's voice platforms can be run as virtualised or native Linux applications on a server, or in the form of a 'traditional' hard IP PBX. All phones on your site(s) connect to the voice platforms over your LAN infrastructure, whilst mobile/homeworkers will connect directly back to your main office over wide area network and/or public mobile or wireless networks.
And to perfectly complement Splicecom's range of voice platforms, Splicecom Select allows you to simply add the network infrastructure services you require to deliver a complete, secure, end-to-end Splicecom voice solution.. This includes Site Connectivity, in the form of Ethernet and Broadband services and SIP trunks.
Splicecom's Vision Business Management suite – offering historical reporting, real-time wallboards/dashboards and call recording - Secure Mobility Gateway and Navigate UC/CRM server for voice enabling IT applications, can all be run as virtual or native apps within your in-house computing environment.
Analogue phone gateways provide legacy handsets connectivity – and then energise the phones by allowing them to be used in conjunction with Splicecom's Navigate Phone Partner app, delivering all of the advanced personal productivity features of Splicecom's PCS IP Phones.
As an alternative to SIP, Splicecom's trunk gateways provide connectivity to existing BRI and PRI services. Even existing PBXs can also be catered for using the same trunk gateways to provide ISDN or DPNSS connectivity. This allows these legacy enterprise systems to remain integrated with your overall communication system and take full advantage of the cost savings associated with SIP trunks, with the ability of migrating each site to full IP operation at your own pace, as business needs and budget dictate.
Not only do Splicecom voice platforms and Splicecom Select infrastructure services offer you a wide choice of on-premise deployment options, they also allow you simple, cost-effective migration between all three deployment options in the future. So you know that your initial investment in Splicecom technology and services will be protected as and when your business requirements, IT strategy, budgeting or cost/availability of service offerings change in the future.